1997 Invitational Tournament
Number of Players: 14
Entry into this tournament was by invitation only --- the top 16 members in the Association at that time were asked to participate and was started on ????. The final game was completed on October 11, 1997.
ROUND 1
ROUND 2
ROUND 3
FINALS
Bye No Players
mheinz@ vs STAKMAN
Bye vs mheinz@
#1364 Krazyhouse vs MShih03
#1365 jbutler@ vs PhilipHall
#1541 Mshih03 vs jbutler@
#1940 mheinz@ vs MShih03
#1366 Rewstr vs Sharp100
#1367 Haileous2 vs Ryle2
#1542 Rewstr vs Ryle2
#1368 EnemyThine vs marich@
#1369 Legonuts vs DWJD
#1543 Enemy Thine vs DWJD
#1941 Enemy Thine vs Ryle2
#1942 Enemy Thine vs mheinz@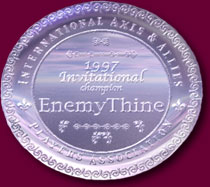 ---
This page last updated May 1, 2002 by micwil.
This page is best experienced with the world's best browser --- isn't it time you started using the software that defines the standards which run the Internet? Click below to experience the web like you never have before...